Number of Tarot Cards in a Deck
If you dive into the Tarot World, are you aware How many cards are in a Tarot Deck? Well, the answer is 78 cards. Yes, you are right; it takes 78 cards to know what is in store for your life. Are these cards a one-stop solution to all your problems in life? "No," they are not! Instead, they are a sketch of your life. By living your life, have you ever been able to come to a one-stop solution to your life's troubles? I am sure your answer is "No." So, Tarot is your choice since it does not provide you the one-stop solution but instead a whole picture of your problems.
Types of Tarot Card Decks
Tarot Decks are generally a set of 78 cards, often with their interpretations inscribed within them. They are personalized versions of the cards, and they are more concerned with how one man or a group of men have interpreted the cards at a given time. How many cards in a Tarot deck is not a great challenge but instead requires just a few minutes of your understandings.
The major Tarot decks which became popular in due course of time include
Rider-Waite-Smith Deck

– Designed by Pamela Smith using instructions of A.E Waite and published by Rider Company. The designs are simple, and the

Tarot Decks

was published in 1910.

Angel Oracle Deck – Part of Oracle Tarot Decks

, the first set of cards, was developed by Marie Anne Adelaide Lenormand. They originated in France in the 19th century. The Angel Oracle

Tarot Decks

comprises of 36 illustrated Angel Cards in the deck.

The Universal Marseille Tarot – It is based on Swiss Tarot Decks,

and these cards are created in 1751 by Claude Burdel, retaining the Woodcat look about it is infused with more natural color shading. 

Druid Craft Tarot Deck 

– The Druid Craft Tarot form comes from the natural druid and Wiccan practices, and they hold the spirit of a Wicca in place.

Renaissance Tarot Deck 

– Brian Williams Renaissance Tarot combines European Renaissance Culture with classical Greek and Roman stories. They depict the Olympic Gods along with other Greek and Roman deities.

Wild Unknown Tarot Deck 

– This form of Tarot Deck is used to explore the natural mysteries of the worldly human, animal and plant world. It has the minimal style with images meant for deep contemplation.

The Legacy of the Divine – Ciro Marchetti, a talented artist and creator of the Gilded Tarot Deck

and Tarot of Dreams, created these cards. Divine Legacy is portrayed very well with the use of realistic yet very magical digital style.
The Major Arcana Tarot Deck 
The Major Arcana Cards of Tarot Decks talk about your life's biggest challenges. Your entire life cycle, life's major decisions and challenges. Tarot card reading tells what each Card would mean when they appear in your draw. You can use the table below to identify How many Tarot Cards are in a Deck.
Tarot Cards
Inner Qualities
Outer qualities
The Fool Tarot Card

Asks you to have a naive belief in Nature
faith in your inner instincts
the energy of a child

a new beginning far from the last ending

 a novice in search of the inner free-spirit

The Magician Tarot Card
It asks you to believe in the magical world
An emanation of power, intellect, and strength
The High Priestess  Tarot Card

Mysticism
Divination
Understanding of the internal meaning of life and world,
Evoking the intuition, generation of inner power
Understanding the soul

Living life with the understanding of the realities of the world

The Empress Tarot Card

Development of the feminine side

Connection with the Yin energies of oneself

Generation of external power

Indicates inflow of resources

The Emperor Tarot Card

The flow of generosity and 

Exudation of strength

Future grounding and

Stability

authoritative position

The Hierophant  Tarot Card

Maintaining traditions in the world.

Fostering goodwill

Your Yang energy build-up

Strengthening of Beliefs

The Lovers Tarot card

Availability of Choices in Life

An indicator of Good Times

Expressing Harmony and Peace 

Romantic establishments

Blessing from above and 

An uplifting time is nearing you

The Chariot Tarot Card

Movement is indicated

Progress is indicated

Choosing one path to move forward is available

Inner Understanding of the paths you must take

Dominance in your work

Control your steps and calculatingly move forward

Strength Tarot Card

Wielding courage for outer development

Remain unfazed even when in trouble

Keep calm

Generate patience

Wield Inner Power

Try to use your inner strength to subdue the beast

Take a leap of Faith

The Hermit Tarot Card

Stand aloof

Judge the scenario

Show the way to others with your experience as a beacon.

Strengthen your judgment skills.

Go deeper into your problems

Strike a balance

The Wheel of Fortune in

Tarot Deck

About to get a breakthrough

Destiny would smile down upon you finally

Either in work or life, some hurdle can be crossed.

Good fortune is soon going to bless you.

Life is going to become easier.

Mental peace, physical and spiritual health will be all yours.

Justice in

Tarot Deck

If you are innocent, justice would be done to you; if your actions are not enough, judgment will turn against you.

Your inner balance needs to be restored; if you have strayed from it, you need to understand that your actions can impact others to a great extent.

The Hanged Man Tarot Card

Halt whatever you are doing.

Take a step back

Be still

Try to see a thing upside down

Understand what are you surrounded with,

Develop compassion for yourself and others.

Develop your intellect to understand the spirit of life.

Death in

Tarot Deck

An end is near.

A new beginning is in the corner

You have suffered losses that need to be considered into life.

Your inner realm is undergoing deep understandings.

You are gaining more and more insight about the dead things in your life.

Survey them and move forward, do not plan to cling to dead things.

Temperance in

Tarot Deck

An excess of some material possession or your ego is

currently present in your life.

Temper it down.

Temperance can help you survive longer.

Your inner soul is gurgling with something bitter and noxious.

Temper it down, tone it down, it is not helping you

Serve no other point, except your own welfare.

The Devil in

Tarot Deck

This shows the damage is done, and you cannot recover from its debt.

The damage might be on the monetary front, personal front, mental, or moral front. 

Your inner changes are in place, they are destructive at the moment or not aligned to the real you.

This damage that is done to you will take time to heal. If possible, try to get out of whatever you were doing, if it's your work, or your life or the people.

The Tower in

Tarot Deck

The Tower is crumbling down.

There is too much load on the Tower that you have built around you

You have to temper down, throw off random pieces.

If emotions are a problem, throw them down.

2) If mental weakness is a problem, try to regain strength.

Build a new tower or rebuild the old tower at least, if you can't do anything else.

The Star in

Tarot Deck

This is the time to set your goals and aspirations.

To tunnel yourself towards your goals and your efforts should align with your goals now.

The time when you can create hope within your inner circles.

You can build faith and desires.

Without thinking about anyone, create your boundaries, and slowly build your empire within.

The Moon in

Tarot Deck

The Moonlight is soothing, yet there is decreased vision and clarity.

Everything is still not clear; all does not make sense.

You are not clear within yourself; your wisdom is still clouded.

You need to wait for the morning to shine upon you.

The shapes and forms that you see now would change as time passes.

The Sun in

Tarot Deck

The Sun is shining, finally. 

You need to rise and shine.

You need to understand that now the reality has finally dawned upon you.

Soak yourself in the warmth of the Sun.

Stand and soak its Light.

Slowly, the positivity will come back to you; gradually, the soul would be filled with Light that would never again fade.

Your intuitive understanding, your wisdom will rise to its most significant height now.

Judgment in

Tarot Deck

Your work will be judged

People will put you through trials if you are wrong

If you are right, your please would be heard and considered. It will bear good fruit

Try to

to see a scenario impartially

Try not to pass judgment over others

Try to make life better but take care; it must not be at the cost of any other person.

The World in

Tarot Deck

The World is a beautiful card; it can emphasize your life; growth is indicated through this card.

The Card indicates an inner fundamental change; the card is a sign of expansion, a symbol of unexpected developments.
The Minor Arcana Tarot Deck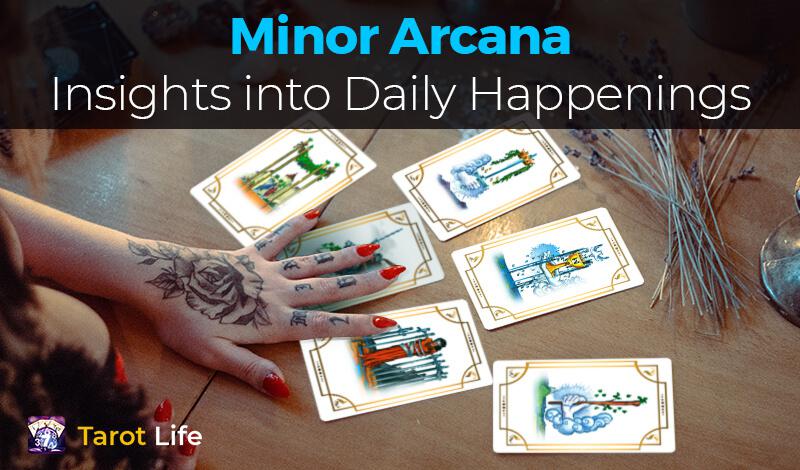 The Minor Arcana is a pack of 54 cards in a Tarot Deck. It has four suits, and each suit has 14 cards. Read on to know how many tarot cards are in a deck when it comes to minor arcana.
Pentacles in a

Tarot Deck

represent Earth, the merchant class, and rules material body and possessions.

Swords

represent Air in a

Tarot Deck

, the nobility and the military, and rules our reasons as well our passions.

Wands represent Fire in a

Tarot Deck

, artisans, and the creative faculty and will power.

Cups represent the Water in a

Tarot Deck

. It deals with our emotional aspect & our love meter.
| | | | |
| --- | --- | --- | --- |
| Wands in Tarot Deck | Swords in Tarot Deck | Pentacles in Tarot Deck | Cups in Tarot Deck |
| The Ace of Wands | The Ace of Swords | The Ace of Pentacles | The Ace of Cups |
| The Two of Wands | The Twos of Swords | The twos of Pentacles | The Twos of Cups |
| The Three of Wands | The Threes of Swords | The three of Pentacles | The Threes of Cups |
| The Four of Wands | The Fours of Swords | The four of Pentacles | The Four of Cups |
| The Five of Wands | The Five of Swords | The Five of Pentacles | The Five of Cups |
| The Six of Wands | The Six of Swords | The Six of Pentacles | The Six of Cups |
| The Seven of Wands | The Seven of Swords | The Seven of Pentacles | The Seven of Cups |
| The Eight of Wands | The Eight of Swords | The Eight of Pentacles | The Eight of Cups |
| The Nine of Wands | The Nine of Swords | The Nine of Pentacles | The Nine of Cups |
| The Tens of Wands | The Tens of swords | The Tens of PEntacles | The Ten of Cups |
| The Page of Wands | The Page of Swords | The Page of Pentacles | The Page of Cups |
| The Knight of Wands | The Knight of swords | The Knight of Pentacles | The Knight of Cups |
| The Queen of Wands | The Queen of Swords | The Queen of Pentacles | The Queen of Cups |
| The King of Wands | The King of Swords | The King of Pentacles | The King of Cups |
These are what the Minor Arcana cards in a Tarot Deck try to find out for you
| | | | |
| --- | --- | --- | --- |
| Wands | Action | Invention | Energy |
| Pentacles | Money | Family | Health |
| Swords | Challenges | Intellect | Mental Prowess |
| Cups | Emotion | Intuition | Relationships |
The Suit of Wands: Action and adventure rules this suit of your Tarot Deck. Creativity is a prime factor. Creative skills do not just mean your writing and your storytelling skills; it means your imaginative and creative skills of any kind, the ones which can move you through the difficult trails into more comfortable zones.
The Suit of Swords– You would face mental challenges; you need to overcome those challenges. Your inner power will come to fruition with the appearance of upright cards from your Tarot Deck. But, you will have to fight and struggle a lot to overcome those unhealthy mental challenges. Your mind will strengthen up a lot.
The Suit of Pentacles– You would have money, family, or health, or you would have challenges in those fronts for your Tarot Deck. Either will be compromised on a single day, but then you must not forget every night has a morning.
The Suit of Cups– You would either be in an emotionally stable state or mentally imbalanced state for your Tarot Deck. Mostly positive results come from an upright position, a reversed position usually shows negative effects. 
Each of the 56 Minor Arcana cards can come to you in two forms each, one upright position, and one reversed position. 
This article can give you a clear view of How many cards are in a Tarot Deck? Sometimes, when we are stuck, when we have difficulty in overcoming obstacles, when we are self doubtful and in a questionable state, then taking guidance from an unknown source is the best option. By understanding how many tarot cards are in a deck and taking guidance from Tarot Cards is ideally the best option since they give you a range in which the factors of life work. A variety of ways in which you can understand what went wrong can be the best way to appreciate your Tarot Deck. It was not one way or another, but almost all probabilities that might have gone wrong.