Judgement Tarot Card Meanings
The primary meaning of the Judgement Tarot card is to heed your calling and rise up for the Highest good. It represents spiritual awakening and points to the period when you receive outcomes at every life aspect. Are you worried about your future? Do you want to have answers to the most pressing questions of your life? Don't worry. The appearance of the Judgement Tarot card tells that you will soon receive the insights that you are seeking.
Curious to know more about this Major Arcana Card? Read on to know more about Judgement Tarot Card meaning in detail for love, career, money, health, and spirituality. Also, learn to read the Judgement Tarot card by understanding its images and symbols in a traditional tarot deck. Note, the traditional tarot deck meaning is based on Rider Tarot deck and is different from others such as Jojo Tarot Cards meaning.
Judgement Tarot Card Description
The illustration of Juiter depicts a naked man, women and children, rising from the grave and spreading their arms looking towards the sky. It signifies that they are ready to be judged by the Universe. Above them the Messenger of God, Archangel Gabriel is blowing the trumpet. All the people are responding to his call and appealing the creator to weigh their actions. They want to find out if they will be accepted into the heavens or will be sent to hell. The extensive mountain range in the background signifies the obstacles that everyone faces before reaching a destination. The blue tide around graves is a sign that judgement is final and inevitable. Like The Magician tarot, there is a banner around Gabriel's trumpet. The appearance of Judgement signifies that nothing is permanent in the world. Whatever begins comes to an end and whatever ends pave way for a new beginning.
| | |
| --- | --- |
| Judgement Tarot Card Meaning Upright  | Judgement Tarot Card Meaning Reversed |
| Self-evaluation, awakening, renewal, reflection, rebirth, inner calling, absolution, decisiveness | Self-doubt, inner critic, ignoring the calling, lack of self-awareness, indecisiveness, |
Read Judgement Tarot interpretations in Upright and Reversed position as described by the Best Tarot app.
Judgement Upright Card Meanings In Tarot Reading or Spread
Judgement Upright Tarot Card Meanings:
| | | | | |
| --- | --- | --- | --- | --- |
| Upright Love Meaning  | Upright Career Meaning | Upright Finance Meaning | Upright Health Meaning | Upright Spiritual Meaning |
| Renewal of love, making adjustments in relationship, awakening, snap judgements, apportioning blame | Finding career purpose, accountability | Reflecting on financial habits, weighing the financial values | Healing, ready to improve fitness | Spiritual awakening and spiritual rebirth |
General Meaning of Judgement Upright Tarot
Judgement Tarot card in the general context speaks of awakening and self evaluation. It shows that you have achieved clarity and composure to evaluate yourself. From your past experience you have gained a self awareness that is helping you to move forward. The appearance of Judgement in a Tarot reading is a sign that you will be presented with choices that will have a long lasting effect on your life. Your present actions and choices will decide your future, thus you need to tune into your higher self. You may look to your past for life lessons and confirm whether your decision is right or wrong. Judgement Tarot Card Upright also suggests that you are being judged for your actions and conduct. Alternatively, you may be snapping judgements about others harshly.
Judgement Tarot Upright in Love and Relationships Readings
If you are already in a relationship, Judgement Tarot love signifies that you or your partner may be judging each other harshly or may be blaming each other to provoke a reaction. You are unaware of the fact that this behavior is damaging your relationship and making your partner away from you. Now is the time when you should communicate with each other and let each other know what you feel and what you need. You should make adjustments and forgive the past mistakes to make your relationship move forward. As per Judgement tarot relationship reading, the changes that you will make now will have a long lasting effect on your relationship. Thus, take heed from your past mistakes and make sure you do not make decisions that may hamper your happiness in the future. To make informed decisions, seek guidance from experts on the best tarot app free. 
If you are single, Judgement love tarot meaning suggests that you should not judge your potential partners. Open yourself to meet new people and know them before you make any decisions about your life partner. Remember that the Judgement Tarot Card comes up with the final decision. So, there won't be any second chance to have a blissful and stable love relationship.
Judgement Tarot Upright in Work and Career Readings
In a career tarot reading, Judgement Tarot Card Upright speaks of a period of awakening. You may have realized your calling or found a new purpose regarding your career. This may be demanding some adjustments at your workplace or your position which may initially come with some stress. But don't worry and be ready to make important changes or decisions as it may be life changing for your career. Also, if you have been not performing upto the mark or missing the opportunities at your workplace, this is the time when you should pull on the loose ends before your career gets derailed. Moreover, if things are unpleasant at your workplace, evaluate what went wrong at your end and what can be done to improve things. Be accountable for your actions and make wise decisions, suggests Judgement Tarot guide.
If the Page of Cups, a Minor Arcana Card, appears with Judgement Tarot, you are advised to discover your creative talents in order to accelerate the growth of the career. 
Judgement Tarot Upright in Money Readings
Judgement Tarot card meaning in finance is not a good omen. It indicates the need to evaluate your financial habits that are causing a dent in your wallet. Make sure you spend wisely and do not make snap decisions when it comes to money. Avoid making any big purchase without having all the necessary information. If you have any insurance renewal, do it now.
Judgement Tarot Upright in Health Readings
Judgement Tarot card meaning in health is a good sign. It speaks of both mental and physical healing after a difficult period of illness. Judgement tarot guide suggests that you should learn from your past experience and take necessary actions to improve your health. Alternatively, the appearance of the card signifies that you are ready to attain great health and fitness as you have learned from your past mistakes. The appearance of The Star Tarot Card in addition supports the prediction of hope and faith to have a desirable health situation.
Judgement Tarot Upright in Spiritual Readings
Judgement Tarot card signifies spiritual awakening. The appearance of the card indicates that you have learned your Karmic lessons and realized the working of the divine timing. You are ready to embrace a spiritual path that is more enlightening and fulfilling. Judgement Tarot card meaning also suggests that you are heading towards spiritual rebirth and have received your spiritual calling.
This was all about Upright Judgement Tarot from the Rider Waite, a popular deck with standard tarot size . In the next section, we have covered the meaning of Judgement Tarot when drawn in the reversed position. Take a look!
Judgement Reversed Card Meanings In Tarot Reading or Spread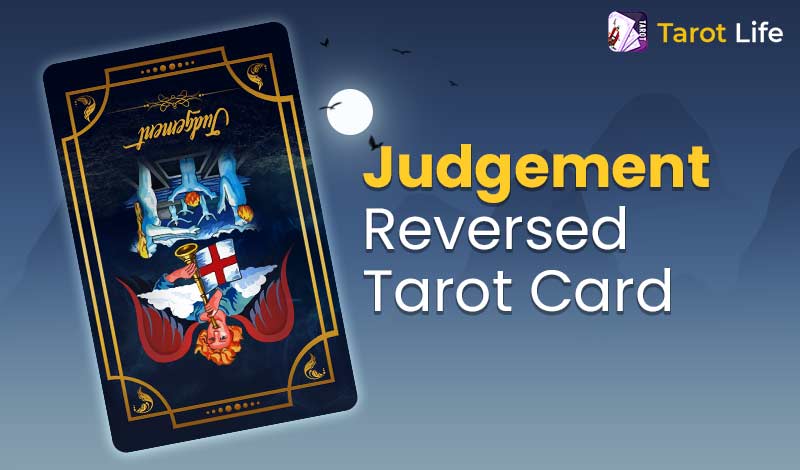 Judgement Reversed Tarot Card Meanings:
| | | | | |
| --- | --- | --- | --- | --- |
| Reversed Love Meaning  | Reversed Career Meaning | Reversed Finance Meaning | Reversed Health Meaning | Reversed Spiritual Meaning |
| indecisiveness, blaming your partner, denial about love life | False accusations, failure to take responsibility for mistakes, self doubt at work | Failure to learn financial lessons, too self-denying | Let go of the past unhealthy habits, denying health conditions | Refusing to learn karmic lessons, lack of self awareness |
General Meaning of Judgement Reversed Tarot
Judgement Reversed Tarot meaning in general signifies self doubt and lack of self awareness. You may be judging yourself too harshly or doubting your inner potential to tackle challenges. This may be the reason you are missing important opportunities and facing setbacks in your work and personal life. Judgement Tarot guide suggests that now is the time when you should take action and overcome the fears that are restricting you from achieving your highest potential. On the other hand, Judgement Tarot card Reversed is a sign that you may be refusing to learn from your past mistakes. Possibly, you may be too busy to reflect upon the lessons you have learned so far. Alternatively, your inner critic may be not allowing you to forgive your past actions and move forward. Acknowledge your mistakes and fears and move on with positive thoughts. If people are blaming you without your fault or being overly critical or judgemental of you, then don't take it on your heart. Focus on your goals and make wise decisions overcoming your self doubt.
Judgement Tarot Reversed in Love and Relationships Readings
When it comes to love and relationship readings, Judgement Tarot Card in reversed is a sign that your indecisiveness is restricting you from having a fulfilling love life. If you are already in a relationship, you may be stepping from an important decision because of your self doubt and inner fear. You may not be ready to step forward whether it's about starting a new relationship or ending the unfulliing one. Reversed Judgement Tarot relationship reading suggests that you may be refusing to see things that are vital in a relationship. Are you in a state of denial about your relationship? Are you refusing to follow the lessons you have learned from your past relationship problems? Reflect on the past mistakes and apply the knowledge to make effective decisions regarding relationship matters. Also, if you have come across any malicious gossip or false accusation about your partner,do not rush to make any judgement. Make sure you don't criticize your partner without a fair reason.
If you are single, Judgement Tarot love reading points to your timidness to approach your crush or love or potential partner. Lack of courage or fear of rejection may be stopping you from moving forward. In this situation, you should stop making snap judgements. Gather courage and pour your feelings to your potential partner. Remember, a little courage can open doors to true love and help you find a life that you have always dreamt of. Moreover, you may check Love Compatibility Calculator online to check the compatibility of your prospective partner with you.
Judgement Tarot Reversed in Work and Career Readings
You are at the verge of a breakthrough in your career but you are delaying the opportunities or not making necessary decisions because of your self doubt and fear of failure. Judgement Tarot Card reversed tells that you should not be indecisive this time as this may hinder your career progress. Seize the opportunity and do not be ignorant about your strengths and talents. Perhaps you may be judging yourself too harshly at this time and not letting yourself come out of past disappointments. On the flip side, Judgement Tarot card meaning suggests that you may be not being accountable for your actions or have not learned from your previous mistakes. Your lack of awareness may be niggling your colleagues and senior officials.
Judgement Tarot Reversed in Money Readings
In financial tarot card reading, the appearance of a Judgement Tarot card means that you should not be over cautious about money right now. This is not the time when you should criticize yourself or your decisions in the past. Reflect where you went wrong in the past when it comes to money and apply that knowledge to make wise monetary decisions. Judgement Tarot guide foretells positive cash flow. However, it is advisable to not make snap judgements when it comes to finances. Research all the details and make sure you know everything before making a big purchase or investing in a venture. Moreover, comply with laws and regulations. A little negligence or violation may have a detrimental effect on your financial progress. Especially, if you have received Judgement Tarot with The Chariot reversed yes or no reading, then make sure you don't proceed with deals that are risky or not profitable..
Judgement Tarot Reversed in Health Readings
Reversed Judgement Tarot in health reading is an indication that you may not encounter any major health issues. If you have been facing physical ailments in the past, then you should let go of the pain and negativity that has emerged due to the past illness. Think positive and focus on improving your health mentally and physically.
Judgement Tarot Reversed in Spiritual Readings
In a spiritual context, Judgement tarot card in the reversed position is an indication that you need to be self aware of yourself. You should let go of the negative thoughts and learn your karmic lessons for attaining a higher level of wisdom. Judgement Tarot meaning suggests that if you stay unwilling to learn karmic lessons then you won't be able to gain the spiritual enlightenment that you've always wanted.
Judgement Tarot As Feelings
How am I feeling? Judgement Tarot as feelings speaks of emotional healing after a period of suffering and pain. Like The Sun Tarot as feelings, it also signifies your readiness to find love, peace and happiness. It tells that you may be opening up to new possibilities and embracing lessons that are vital to achieve love and stable relationships. You could also be feeling that something from the past has surfaced again and it is causing you to dive into deep and conflicting feelings. You need to introspect yourself and ask yourself who you are and how other people should perceive you, suggests the Judgement Tarot guide
Judgement Tarot Card as how someone sees you! Judgement Tarot Card as feelings is like the High Priestess and Justice that doesn't reveal anything at present. It urges you to figure out the intentions and feelings of the person that you like or love. As per Judgement Tarot Card meaning, everything has its own time and in that particular time everything, be it emotions of your partner or longevity of your relationship, will be revealed.
Must Read : how to know your zodiac sign by name
Judgement in Yes or No Reading
Judgement in Yes or No reading comes up as a neutral card. Thus, to confirm the answer always refer to the other cards received in your spread. Using different types of oracle cards such as Energy oracle tarot is also informational as it offers answers based on the energy you project.
Since Judgement tarot meaning suggests mainly life changing situations or transformation, the answers to any professional or spiritual calling questions are mostly "Yes". Check out the outcomes of Judgement in Yes or No reading for the following questions.
Do they like me?
Things are hidden and you will find its answer when it's the right time. Thus, don't try to force anything and wait for the Divine timing to reveal it.
Will I meet my love?
Yes, but you need to open up yourself for love. You need to make swift moves and wise decisions to find your true love.
Does my Ex love me?
You are not meant to know it now. The Universe has concealed the answer and you will learn about the true feelings of your ex only at the right time.
Will my Ex come back?
If it is destined then you will surely meet your Ex lover or partner. However, if your ex won't return then it means that someone better is about to come into your life. In case, you receive Judgement Tarot Card and The Lovers as feelings, then it means the old flames of love may rekindle and you can get a second chance to reconcile with your Ex.
Judgement Tarot Card Meaning Summary
When Judgement Tarot appears it signifies that you are stepping towards a meaningful life grasping your all karmic lessons. It shows that the Universe will push you to new horizons and you will witness choices that will be life changing for you. If reversed, Judgement speaks of indecisiveness due to the self doubts and inner fears. It urges you to learn from the past mistakes and not become overly critical of yourself.
Interested to read your cards and reveal your future? Get free tarot card reading online and explore all the possibilities that may happen. You may also get daily tarot guidance and learn about tarot card meanings in detail. Also, get solutions to your problems from expert psychic readers and make effective decisions based on your tarot card interpretations.