The Sun Tarot Card Meaning: Elements and Symbolism
The Sun Tarot symbolizes positivity and optimism. It depicts the radiating Sun at the top representing source of life on the Earth. There is a child sitting on the horse, playing joyfully in the front. He signifies innocence and represents the joy of happiness that occurs when you discover your true self. His nakedness is an indication that he has nothing to hide. He represents the purity and bareness of the soul. The white horse upon which the child is riding is the sign of strength and nobility. It doesn't have a saddle and is controlled by bare hands, representing a perfect balance between conscious and subconscious. The child holds a long banner on his left side. Straight and wavy sun rays are beaming over it, representing prosperity under the Sun. Underneath, there are four sunflowers that are growing tall above a brick wall. These four sunflowers represent four suits of the Minor Arcana and the four fundamental elements of all the forms of life. The Sun tarot card card depicts the dawn that follows the darkest hour of the night. Learn what the Sun Tarot means in upright/reversed when drawn from the Rider Waite, a deck with average tarot card size.
The Sun Tarot Card in the Upright Position
The Sun Upright Tarot Card Keyword Meanings
Positivity, optimism, prosperity, success, warmth, vitality, fun, freedom, confidence, good luck, happiness, truth, self-expression, pregnancy, enthusiasm, joy.
The Sun Upright in General Meaning 
The Sun Tarot is the nineteenth card from the Major Arcana Tarot card  that signifies positivity, vitality, and openness. The card is a sign of success and good-luck. It signifies that you possess positive and radiant energy that attracts people towards you. They always look at the brighter side and get drawn towards you for warmth and inspiration. Sun tarot in a general reading asks you to express yourself and show you inner power to the world. The card is an indication that you need to tap into your power and use your divine energy for achieving your goals. You share a sense of joy to everyone and make your loved ones feel the warmth of your love. Sun tarot indicates that things are pleasant around and you will feel more confident and optimistic now. 
The Sun Upright in Love and Relationship 
In a love tarot card reading, Sun tarot signifies the feelings of happiness and warmth in a relationship. It indicates that you are with your true soulmate and things will turn out to be more exciting with the passage of time. There is a joy and security in your relationship. You might feel rejuvenated and enthusiastic in love and may think of taking this relationship to the next level. In love tarot card readings, the Sun is the sign of pregnancy. It also indicates celebration such as marriage or engagement at present or in the upcoming time. Be honest and open. Express how you feel about your partner and relationship. The card is an indication that some hidden things or issues may come out. Look to the supporting cards for verifying things. 
If you are single, the Sun tarot is a sign that a beautiful relationship is heading your way. You may feel head over heels with someone! You will meet your true partner who will appreciate and love you the way you have never experienced before. The love will be pure and you will feel adored with care and affection. The card also means that you may feel free that you don't feel to mingle and get into a relationship. You may like to stay single and enjoy your life to the fullest. 
The Sun Upright in Work and Business 
The Sun tarot speaks of success and fulfillment. It is an indication that new opportunities are brimming and you will feel confident in taking challenges. When the Sun tarot appears in career tarot card readings, it is a sign of promotions and appraisals. It signifies that you will find success in your endeavors and discover new ways to grow professionally. You will be noticed by the people for your joyful nature and optimistic outlook. Your hard work will be recognized and you will be a source of inspiration for your colleagues. If you are looking for changing your job or starting a new business, this is the sign you are waiting for. The card indicates a good time for launching new business ventures and work on your long term career goals. Stay confident and work with a positive energy for making the most out of your good luck. 
The Sun Upright in Money and Finance 
In the finance tarot reading, the upright Sun tarot card is a positive omen for money and finances. When the Sun appears in financial tarot card reading, it means that you may explore new opportunities for growing wealth. You may crack some good business deals that may boost your income and increase your financial stability. Good investment opportunities will help you to pay off the heavy debts and you will discover the hidden debts or expenses that has been creating a dent in your wallet. If you are dealing with any financial crisis, the Sun tarot card is a sign that things will get better with time. You may take small risks with money and make some risky investments. However, be cautious and research carefully before you invest or sign any financial contract. Review your budget and stick to the savings plan for the unexpected expenses. 
The Sun Upright in Heath 
Vitality and joy of the Sun tarot speaks of your good health. If you have been ill, the card reveals the signs of recovery and new energy. You may likely recover soon and will feel more balanced and positive mentally and physically. The Sun tarot card signifies that your optimistic approach and psychological well-being are creating a positive impact on your health. Start a new workout regime or plan your diet. The Sun will drive you with its energy to revitalize your body and mind. 
The Sun Upright in Spirituality 
You might be looking at the world with a fresh and positive outlook after passing all the obstacles and negativity in the past. In Spiritual tarot card readings, the Sun signifies that you have finally found contentment in your spiritual life. You are enjoying your spiritual journey and feel contented of reaching where you are. The Sun tarot card indicates the happiness of finding your true self. You have discovered who you are and what's the true purpose of your life.
The Sun Tarot Card as Feelings
In tarot card reading, the Sun tarot depicts the feelings of positivity, joy and excitement. You are confident about your partner and feel a great sense of contentment. The card signifies that you are drooling over someone or falling in love with the same person over and over again. 
If you are asking how someone feels about you, they feel they can share all their feelings with you. They feel free and open with you on every matter. For them, you are the one they seek and feel lucky to have you in their life. They are madly in love with you and consider you as the live wire of their life and, suggests the Sun tarot card.
The Sun Tarot Card in Yes or No Tarot Reading
Definitely Yes!. The Sun is the most positive tarot card in tarot card readings. It indicates the feelings of joy, success, new beginnings and positivity. The Sun is an indication that you will be successful in your endeavours and there is nothing that can restrict you from achieving your goals now. Read further to know what if you draw a reversed Sun Tarot in a tarot spread interpretation app.
The Sun Tarot Card in the Reversed Position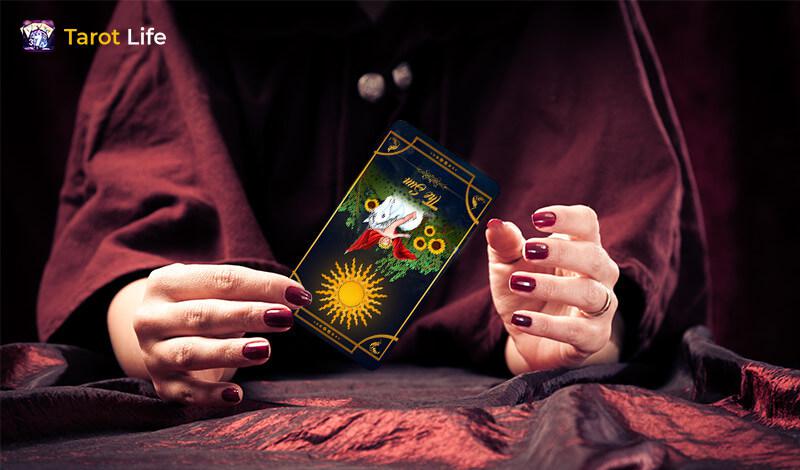 The Sun Reversed Tarot Card Keyword Meanings
Lack of enthusiasm, sadness, excessive enthusiasm, unrealistic expectations, oppressions, miscarriage, abortion, stillbirth, conceitedness, pessimism, unrealistic expectations, ego, overly optimistic, inner child. 
The Sun Reversed in General Meaning 
On the flip, the Sun tarot indicates negativity, depression and lack of enthusiasm. With its appearance, you struggle to see the brighter side of the situation and lose your zeal in things. You may feel depressed and negative about your surroundings. The Sun in the reversed position is a sign that you may experience setbacks and feel clouded about your direction. You may also feel overly enthusiastic about the things and might have set up unrealistic expectations that cannot be met. The reversed card of the Sun tarot is also an indication that you are over confident about your actions which is turning you arrogant and egoistic in nature.
In love tarot reading, the Sun reversed is an indication that the spark has gone out of your relationship and you are feeling depressed and sad. You or your partner feel outshone or jealous of another one. Try to communicate with your partner and rekindle the love by spending time with each other. The reversed Sun tarot card represents abortion or miscarriage which might be the reason for sadness or pessimism in your relationship. The card signifies that you and your partner are not excited about this relationship anymore and taking each other for granted. 
If you are single, the Sun reversed tarot is the sign that you are being too egoistic and arrogant while meeting your potential new partners. You have made unrealistic expectations about the future which is not allowing you to settle so early. Be modest about your things and avoid bragging if you want to attract a true and loving partner. The reversed Sun tarot card urges you to be positive and enthusiastic rather than losing your hopes of love.
T

he Sun Reversed in Work and Business
In work and business reading, the Sun reversed shows a lack of enthusiasm and positivity. You might be feeling trapped or oppressed at work due to the overburdening of responsibilities. The card signifies that you are losing the vigor and experiencing a lack of confidence in dealing with workplace challenges. The Sun reversed also represents your unrealistic approach which is not allowing to make some practical decisions related to job or business. It indicates that you are overconfident in nature and this is making you arrogant to the new and shy coworkers. Stay positive and do not let others feel you down or depressed. 
The Sun Reversed in Money and Finance 
The Sun reversed is a bad omen for finances. According to the tarot card reading of the Sun, you may experience a financial loss or may go through a tough time while retaining your money. The card signifies that you might have invested in the wrong deals by being overconfident or have lost track of expenses. You are being unrealistic with money matters and are not managing the finances. You need to be pragmatic about your money and take care of spendings. Keep track of your money and do not make risky investments that may lead you under heavy debts. 
The Sun Reversed in Heath 
In health tarot readings, the Sun Tarot card on the flip indicates miscarriage or unplanned pregnancy or abortion. Your negative attitude may affect your mental health and delay the healing process. The Sun reversed card is an indication that you may recover from the illness if you take things positively and work out regularly. To gain more insights into health prospects, see the cards drawn alongside the Sun. Learn what are the different types of tarot cards that could influence your health and well being.
The Sun Reversed in Spirituality 
When the Sun tarot appears in the reversed position, it means that your ego is the biggest obstacle in the path of your spiritual progress. You may be struggling to achieve your spiritual goals or have lost the enthusiasm for enhancing your spiritual knowledge. You might likely not trusting the process. There is light at the end of the tunnel but to see that you need to trust your instincts. Stay positive while you rediscover your inner self. You might not be able to connect with your true self right now due to the inner sadness and negativity of your thoughts. Trust the process and let go of the negative baggage that is holding you back.
The Sun Tarot Card Meaning Summary
As mentioned above, The Sun is one of the most positive Tarot cards of a deck. When it appears in your reading, it is a sign that you are about to rise and shine like the Sun. You are likely to feel motivated and confident to achieve your goals. Your future will be bright and you will see a positive flow of energy flowing around you. 
Curious what the other Major arcana cards mean? Want to know all about Minor Arcana Tarot Cards? Get an online tarot reading app and reveal the working of Tarot cards in your life. Know everything about your Tarot, your future and the right way to lead a happy life.