Tarot has always been your go-to guide for all your concerns and has always illuminated your path with its divination. 
When we have been by your side through all your difficult times, Experts at Tarot Life were really concerned about how to be a part of your most happening day of the year. 
Yes, your Birthday! 
Contemplating different ways for passing the message from Universe to you on your Birthday, Tarot Life Experts devised a one of a kind Birthday Spread for your special day of the year.
Birthdays are the beginning of a new chapter of your life, not just making you a year older but also a year wiser.
How would you feel if we tell you that we have a new way to mark your journey from the previous year to the upcoming new chapter of your life?
For most of us, the time around our Birthday makes us a little conscious about our lives and after the party is over, when we are in the company of our mind, we get to thinking- How was this previous year? What do I plan for the coming year? What are the challenges that I will have to face now? How can I make the best of this year with my inborn strengths?
Your Tarot Life Birthday Spread will answer!
Introducing the one of a kind Birthday Tarot Spread that will answer all the questions that take over your mind during this time of the year. 
Tarot Life Birthday Spread
Tarot Life has been your friend, buddy and guide through your journey of life, helping you get answers and resolve your dilemma time and again. Be it love, money, career or any other field of your life. You have always found solace under the guidance of our Tarot Experts. 
So how could we leave you alone on your Birthday?
Tarot Life has found a way to mentor you as you embark on a new journey every year, with its unique Birthday Spread. 
Birthday Spread- Your Birthday Wish From The Universe
Universe plans your journey even before you come to this World, and every year when you celebrate your Birthday, the Universe finds a way to send you a special message. 
Tarot Life is Your Messenger From The Universe!
This unique and the most special Birthday Spread whispers the Universe's message to wish you a very Happy Birthday by way of Birth Tarot cards, giving you valuable advice and insights about how to make the coming year remarkable. 
How Will The Birthday Spread Contribute To Your Success ?
Yes, it's a time of deep introspection where we plan things for this new chapter of our life. Well, it is important to figure out where you are headed in life and especially, what did you learn in the past year. 
Once the candles are blown and the cake is cut, it's time to unwrap the gift from the Universe and try this exclusive Birthday Spread!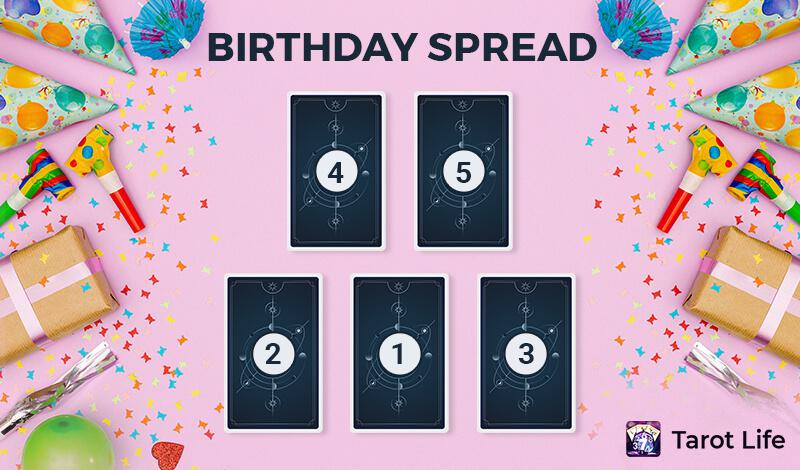 This special 5-card spread will give you the answer for every single question that comes to your mind-
What did you learn in the previous year? 

What do you plan for the coming one? 

What are your strengths that will get you closer to your goals? 

What are the challenges that may surface in the forthcoming year? 

What will you learn this year?
Pick a card for each concern and our Psychic readers will give answers to these questions and guide you with your calling. 
Card 1- Lessons You Learnt In The Past Year
The kind of energies you dealt with in the previous year, impacted your life in a certain way. You may have been successful in some areas, or you may have  had a fall back in some. Whatever be the situation, you ended up learning an important lesson that will stay with you, all your life.This card will tell you about the important lessons that you learnt in the chapter of your life that just passed. 
Card 2- Goals For Your Coming Year
Every Birthday marks the beginning of a new chapter in the book of your life, and every chapter starts with new aspirations and desires. With this card, our experts will guide you with the goals that you need to accomplish in this new year. The kind of energies that will illuminate your path, and the path that you need to take for your future, will be answered with this card. 
Card 3- Strengths You Are Born With That Will Help You Achieve Your Goals
Our inherited genes are responsible for our physical attributes and basic nature, but every individual is born with certain strengths that they may not be able to discover until very late in their lives. This card will reveal the inbuilt strengths that the Universe blessed you with, at the time of your birth. This answer will highlight the strengths that will help you in your pursuit of manifesting the goals you set this year. 
Card 4- Challenges You Might Face In The Year Ahead
Everyday comes with new challenges, and this goes the same way with the start of every year. This card will reveal the challenges that you may have to deal with in the year coming ahead. What might hamper your growth, what may affect your mind negatively, if there is someone who may be pulling you down with their baggage, or if your habits or mindset are blocking your road to success and happiness in the coming year. This answer will help you stay aware of the problems you might have to face as you move further.  
Card 5- The Most Important Thing This Year Will Teach You
What will be your takeaways from this year? This card will guide you in analysing the important things that this year will teach you. As you go forward on your journey through this year, you will end up learning important things that will help you grow. 
How To Get Your Birthday Spread Insights?
It's really very simple. And when we say simple, we mean as simple as downloading our free app Tarot Life on your mobile, be it Android or iPhone. 
Once you have downloaded Tarot Life on your mobile phone, explore the different readings and spreads on our App and you will find Birthday Spread. 
Enter your details, select your cards, make the payment and voila, your Birthday Spread report is on its way. 
Are You Ready To Begin This New Journey With Us?
Download App