Mirror Mirror on the wall, who is my true love among all?
Think again! Mirror on the wall will never tell you about true love. But tarot cards that surely makes sense in this situation will definitely tell you about your true love.
Tarot Cards Reading is not an illusion, rather it is the reality. It indeed is one of the oldest forms of prediction. This method has always worked for the betterment of mankind.
Since love is not a calm sea, unexpected is expected in one's love life. Sometimes you are on the fleek and on the highest peak praising this life for gifting you love like this but in the next moment this bubble is burst.
There are fights, insecurities, trust issues, and even splits for the worse! However, love tarot reading may help you come out of the complexities related to your love by enabling you to deal with them.
Pure love today is not really available like it used to be decades ago. It is because people like to explore and they follow this small yet powerful phrase that says 'never settle'!
This may just sound good but deep down you really need someone you can rely on. And for this, free tarot reading for love life may help you. It is something that shall guide you for what will turn out to be the best for you.
Why Love Tarot Reading Is Required?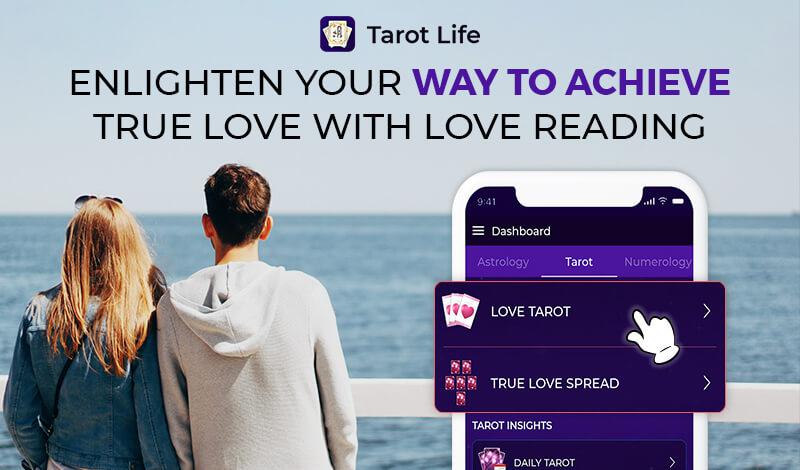 Consulting with something like a Free or online love tarot reading seems so relevant in today's world when we are in a quest to find the true love of our life.
Such guidance may help a person survive the hard times and they may come out of it as a better person. Getting free love tarot reading is way better than getting false hopes. Try to interpret it in the following way.
When we are low on our emotional front, we look forward to a person we can share our pain with. But one needs to think twice before blurting out the personal life in front of someone else. There are people who just make fun of your problems.
However, a tarot card reading for your love life may never hurt you this way. Infact, the readings will be your best buddy which will surely make you feel better when you are at your lowest.
Or the least, a free love tarot reading will just be your way to know things about your love life. Even if things are smooth in your love life, think about getting a reading as it will enlighten your way to achieve that aspiring life with your true love.
How Can Love Tarot Reading Help?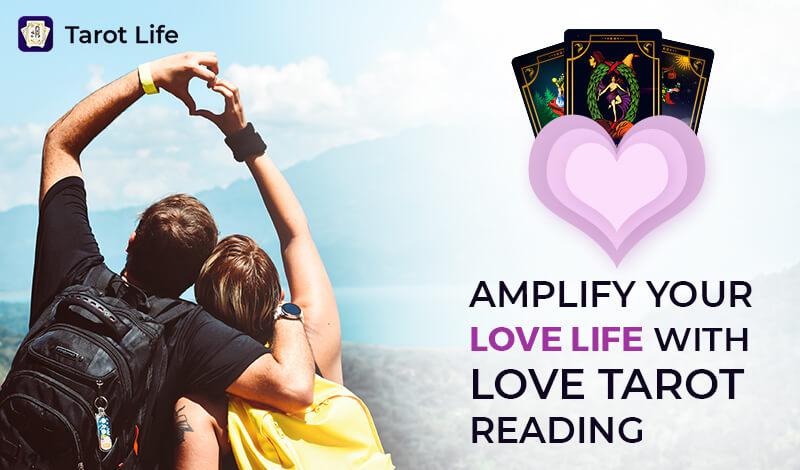 Facing issues in a relationship are way too normal but facing frequent issues is not acceptable. It is a sign you must invest some efforts in your love life. The best you can do is to get help from the universal source- Use Love Tarot Cards.
Before trying to make your relationship last till eternity, it is recommended to find out (of course with the help of love tarot card reading) if it is worth the effort or not!
Once knowing about it, you can move in the right direction by consulting free love tarot reading. There are different combinations of these tarot cards which can be used to make predictions on love. A tarot card reader may put forth these cards in specific patterns known as tarot spreads.
For making love predictions with tarot cards, generally True Love Spread and a 3 card spread are used. If these cards are used not in combination of spreads then individually there are many cards that may foretell about the depths of an individual's love life.
This may include the involvement of both the Major Arcana and the Minor Arcana tarot cards. The Lovers, the Empress, the Emperor, Four of Wands, Two of Cups are a few cards which can be used for foretelling love with tarot cards.
Once the reading has been done, it is on you how you take things forward. One reading session may not necessarily satisfy you. But this does not mean you will not come to it again. There are other factors that are crucial in a tarot card reading for love life to reach to the climax properly.
The accuracy of these tarot cards is something that cannot be underestimated. There have been generations that invest their priceless trust in the love prediction methods followed by these tarot cards.
Tarot cards do nothing different but they are an expert when it comes to fishing out the information from your soul. They communicate with the cosmic world and deliver their message to you. May it be love tarot, finance tarot, career tarot, or any other, these cards are the best medium to get rid of the problem.
Free Online Tarot Cards Reading- Making Love Life Better
Now that we know how these love issues can be dealt with these intuitive cards, we may now know the best way to resolve these issues.
For a free or online love tarot reading, you can consult an app that is intuitive and precise. Tarot Life is the app and it has amazing features to sort all the issues of your love life. The app works on two different spreads. All of the cards are in accordance with the Rider-Waite Tarot Deck.

One is Love Tarot which is a 3 card spread which can be used for a brief reading. The other one is determined to provide readings which are elaborative. There are different questions pre-written for the ease of use of the user. These are answered by the spread. It is a 6 card spread and known as True love Spread.
Love is the precious emotion that is gifted to us by the higher beings but it is sometimes misunderstood and misused. This should not happen because in the end the possessions you own or the quality of clothes you wear does not matter. What matters is LOVE! Go and find your love with the help of tarot cards!