Is your career a second priority in your life? No, right. We all love our careers and do a lot of things to make it successful. Tarot Card reading is just an extension of your effort towards it.
While thinking about tarot cards, we often think about it as a tool for love or future predictions. But tarot cards are much more than that. It is absolute. It can be used for any doubts, problems, and situations of life whether its love, future or career.
Tarot Reading for Career is a great option to improve yourself, hone your skills and enhance your career growth. Its accurate insights, situational descriptions, and career evaluation are perfect for finding a job or starting a new career. However, using career tarot card reading and career tarot spreads are still a riddle.
What tarot spreads should you choose? Which tarot card spreads are right for your professional career? All these questions may arise when you go for career tarot card readings. To help you with all your career-related questions and doubts, a debunking of tarot card spreads is required.
So, here is a quick guide to the best career tarot reading spreads to predict work, business and career life:
1. 3-Card Career Tarot Reading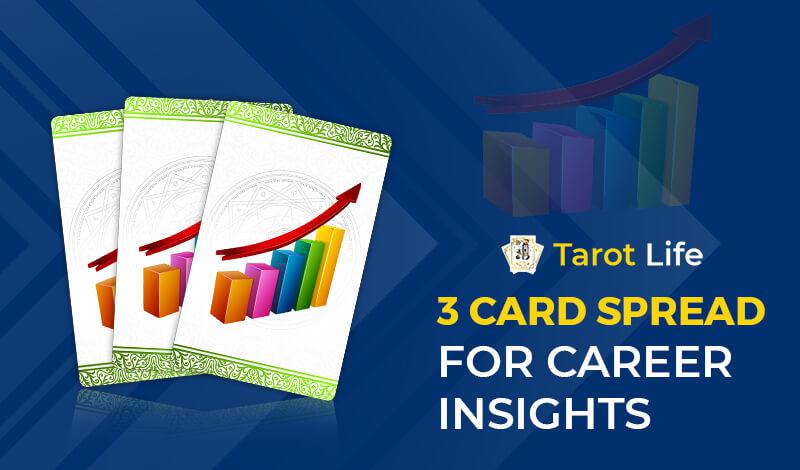 3 Card Tarot Spread is one of the most basic and popular methods of tarot card readings. It can help you to explore your career problems, current situation, challenges and opportunities with 3 tarot cards. You can use these 3 card tarot spreads to find your path and calling.
To read tarot cards, different tarot card readers use different methods. They interpret this three-card tarot spread in different ways. Some use the card spreads to find your past, present and future while some use it to explore the situations, aspirations and possibilities.
With your 3 card career tarot reading, you may get the answers to all your questions that are bothering you for your career. It allows quick readings for your career and gives you insights into the situation that are crucial at that moment. Using your 3-card tarot spread you may find out-
Opportunities at present and in the future.
Hidden possibilities of promotions and setbacks.
Current status of Career, work or business.
Challenges you may face.
Lessons of the past that must be learned for success.
Guidance with quick tarot insights.
Options and resources you might have overlooked.
These readings are insightful and will help you to set the right career or business priorities. It will allow you to access your higher wisdom and answer all the questions – Where to go next? Shall I change my job? Or what should be done to grow a successful business?
You may also use free tarot readings for your business and career with online tarot card reading apps. These apps offer accurate readings without creating a dent in your wallet.
2. Career Path Tarot Spread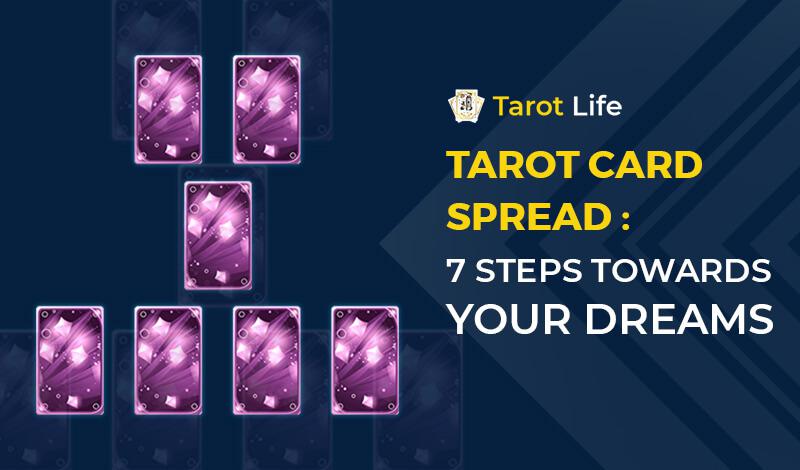 Career path tarot spread is the seven-card tarot spread used for career path tarot reading. Each tarot card in the tarot spread signifies a specific part of the career and shares insights. It is a kind of storyline where tarot cards will help you to solve the career or business issues to succeed big time.
Here is a quick glance at what each tarot card in the career tarot spread means:
Card 1: What is the right career option or Is this right career for you?
If you are looking to start a new job or need an answer to your current job or business, then this is the best tarot card for a career. It will tell you about the right options you have in your career and share the field where you can get success.
Card 2: What you need to do or what you need to avoid for a better career?
Your second card is the card of suggestions. It will tell you how to approach your career and share the steps you need to take for a better professional career. It will also tell you if your current approach is right or you need to improve yourself.
Card 3: What challenges you will face in your career?
Whether you are unemployed or have a stable career or running the business successfully, you cannot predict when the time will turn the table. Your third card will tell you about these challenges and share the suggestions about it.
Card 4: What is your current Career Status?
You might be thinking you are doing well but the current situation and status sometimes are different from what you think. This card will share the tarot card reading on your current job situation and give insights on your current performance.
Card 5: What areas you need to improve?
This card will highlight the areas where you need to improve and share the necessary guidance. Using tarot card readings you may also explore new ways to get the job you want.
Card 6: Explore your inner power and strengths
This card will share your strengths and help you to know the talents, skills that are needed for professional growth. With this, you may find out your inner talents and improve them for better career prospects.
Card 7: What will be your growth prospectus in career?
The last and final card is the tarot card for growth and success. It will predict the growth and share insights on how to keep growing or get success in business and job.
You may use career tarot spread for finding the right job, switching your career and finding the clues about your business and career growth. It is an easy and insightful way to know what is stored in the future and make the right career choices.
Concluding Thoughts
If you are under stress, feeling unlucky and don't know how to cope up with your career crossroads then you can trust your career tarot. You can use free tarot readings for success in career, work and business. The career spreads and daily tarot readings for a career can help you with your decisions giving you the power to excel and use your full potential. After all, a career is something you cannot take for granted!