You spend one-third of your life at work and thus it is important that you love what you do. But does it happen?
Most of the time, No.
You often doubt your career choice, lose hope and easily get frustrated thinking about growth, work environment, and promotions. Do you really have to get into this or you can choose a better path? The answer lies in your choice but there is a chance you can go for- Career Tarot.
Career Tarot Card Reading is a powerful tool to gain insights and find answers to all your career quests such as profession, career direction, promotions, growth, success, job security and so on. It is one of the most ancient arts that has been practiced for a thousand years but is still relevant in the modern context. There is no limit on how you can use career tarot reading for your career but there are certain situations where it can help.
How Career Tarot Card Reading Can Help?
Is this the right career choice for me? Shall I switch my job? What should be my next step in career? These are some of the important questions that can be answered by only a perfect career coach. They can be anyone – your friends, relatives or parents but life is unpredictable and none can predict what the Universe has in store for you. At this moment, you can trust career tarot and use a best and free career tarot reading app for guidance. It will help you to validate your decisions and guide you with other options that you might have missed in turmoil.
Here are some more ways where Career Tarot Card Reading can be used:
1.) To Evaluate Your Career
Tarot Cards are divine projection to your past, present, and future. It is the mirror through which you can know your current situations and can evaluate the career decisions that you have made in the past. It helps you to find the mistakes that have led to the setbacks and guide you with the consequences of future options. With career tarot card readings you may discover mistakes before they are made. You can discover the hidden aspects and patterns that are repeated in your career and evaluate their impact on the present circumstances of the job.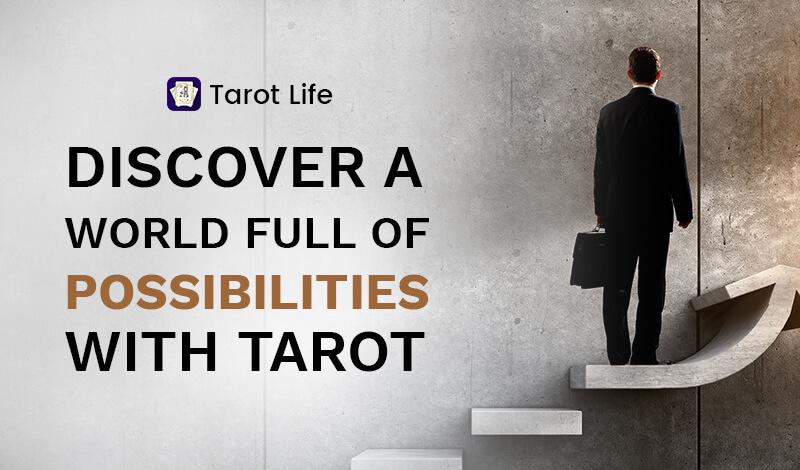 2.) To Explore Apparent Career Choices
A right career choice can shape your future and define your future life. Thus, it is important that you carefully observe all the career options that are available around you. However, mostly these choices are biased with the current career trends, high salary packages or jobs in our social circles. Career Tarot guides you at that time and helps you with the career options that are suitable for you and complements your interests and traits. It throws light on the subjects that might not look interesting today but may prove a stepping stone for your future success.
3.) To Move Into New Professional Role
There are times when your current career doesn't seem a good fit in terms of growth and income. At this time, you cannot decide whether you should stay or leave your current job or career. Career Tarot Card Reading becomes the savior by guiding you with the options and future results. It allows you to tap into your higher wisdom and shares pros and cons about future career prospectus. Cards like Death are clear career cards that state the beginning or end of your career situation. In fact, readings like Yes or No Tarot Cards are a straightforward way to cut through your illusion and find a clear answer in yes or no.
4.) To Grab Future Opportunities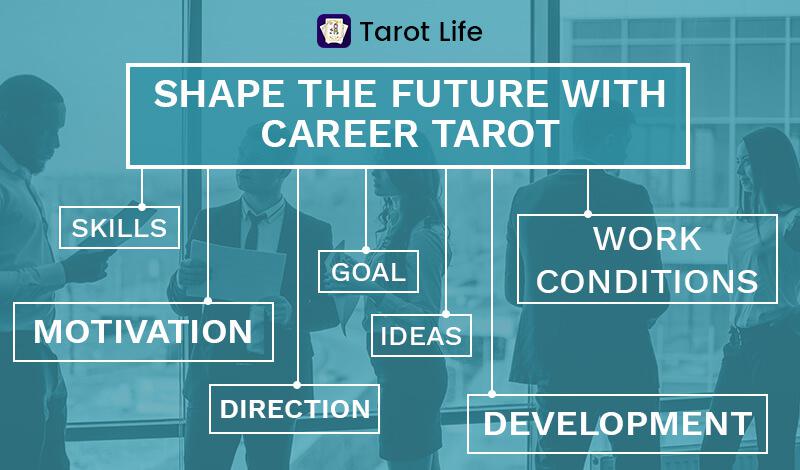 Often the reason for setbacks is the opportunities you missed in the past. Sometimes it's your fault and sometimes it was written in the stars. But whatever the reason is, the regret of missing always haunts in the future. By reading your career tarot, you may grab the opportunities that are coming in your way. It warns you about the pitfalls and reflects the time when opportunities will arrive. Tarot Cards shares the picture of the future and tell you the impacts of each possibility in life. You become the owner of your destiny and can control everything in your career.
5.) To Manage Risks, Stress, And Unemployment
Yes, Tarot cards can help you with all these. It tells you about the pitfalls and reveals the shortcomings in your career. You may read your career tarot spreads and discover the challenges that you will face in your future. It is like a future forecast which warns you against calamity before it takes place. The cards like the Ace of Pentacles, The Sun, Ace of Swords, The Magician can clearly depict the tools, skills, abilities, trade, and traits you need to manage risks, stress, and unemployment. It asks you to focus on the points that are required for the new job like weakness, self-evaluation, and clear perspective. With the help of these readings, you may improve your skills and hit the job that you have always dreamt of.
6.) To Resynchronize Professional with Personal Life
A perfect balance between personal and professional life is necessary to build the stronghold of a career. You cannot concentrate at work when your personal life is in turmoil and mess. Tarot Cards points out this imbalance and suggests to bring harmony in your relationships. It focuses on the small loopholes which you often miss in the rat race to success. To gain balance between your personal and professional life, these free career tarot readings are the bliss that has been given to you by the Universe.
Finally!
Career is an important aspect that you cannot ignore. Your decision may change or ruin your whole life. It may bring doubts and push into the pits of depression, low esteem and stress. So, if you are unemployed, working under high stress or are unhappy with your work life, listen to your intuition. For this, you may use free tarot card reading for career and empower yourself with a great command over your career. You can improve your decision-making ability, overcome setbacks and get the right guidance. Remember, the future lies in your hand. Tarot cards can only show you the way and the efforts have to be laid by you.
So, wake up and take your first step towards success and bright future.