Have you been searching for a Tarot Card Reading App?
If you do not know that there are such prediction apps that are capable of predicting the future then you should know that there exist such apps for your smartphone.
Future foretelling with Tarot Cards is a very different way. People around the globe may have mixed reviews regarding this method of prediction. Some may think that this method is obsolete while for others… they breathe Tarot!
However, the scientific facts remain in the court of Tarot Card Reading. It has been justified that the universe has its own way of communication. It may not speak words but it surely has its own ways to deliver its intent to humans. Tarot Reading is one of those ways.
The ways of practicing this method have evolved. Dark rooms still exist and are used but smartphone screens and desktops are also being used for the same purpose.
Now that the tarot card app for iOS and Android platforms has been manifested by the developers and intellectual tarot card readers, we as users or querents just need to download them.
Now if you are thinking how will you be able to find the right app for yourself then you need not to think about it. We have already done some real field work so that we can provide you with the best choice available.
Before knowing the best tarot card reading app, knowing the basic requirements of such an app beforehand is important and beneficial. It saves time and of course data and storage space. It is also good to satisfy the curiosity of knowing why to use such an app.
Why Use a Tarot Card Reading App?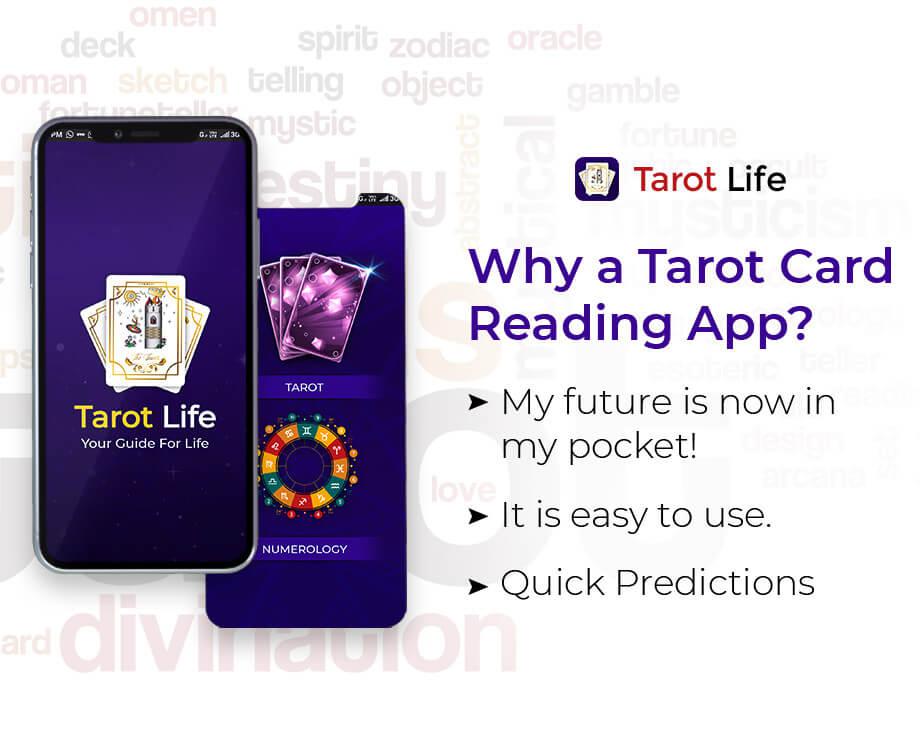 If there are uncertainties in your brain regarding the use of an app instead of a physical tarot reading then know that these are two different aspects.
1. One happens when you need to be physically engaged by denoting an indefinite amount of time.
2. While the other one with a tarot card app for your iOS and Android has no demands or rather we can say it is versatile.
If you are a budding tarot card learner, then there is nothing better than a trustable tarot card app for you. You can learn the meanings of each of these cards without spending a dime! Plus, this will be your pocket guide which you can use anytime.
Using the app of this genre is very handy. You can use it while commuting to your workplace or anywhere. You can also practice and master your readings with a tarot card reading app.
An app that offers tarot card reading may turn out as a source of comparing the tarot cards in detail. The meanings of each card can be used for making comparisons.
Chuck the complications or learning, who knows you may just want to have fun with such an app. It is amusing to test the accuracy of the predictions made by the cards in the app.
No physical set up or ambiance is required while consulting or doing a reading with tarot card apps. So even if you are short of such shimmery assets like crystal balls or scented candles, you can still perform a reading.
What to Look for in a Tarot Card Reading App?
Since there is a galore of every kind of app on both the App Store and Google Play Store, it is a perpetual struggle of the user which one should download.
Hence some of the basic features that the app must have, are described as follows:
Interactive user interface
Must implement correct tarot cards
A detailed description of each of the tarot cards
Robust Customer support
Daily Tarot reading
User-friendly features so that even the ones who do not know much about navigating a mobile is able to get their predictions
These are some of the points a prediction app must inherit:
Which is the #1 Tarot Card App for iOS and Android?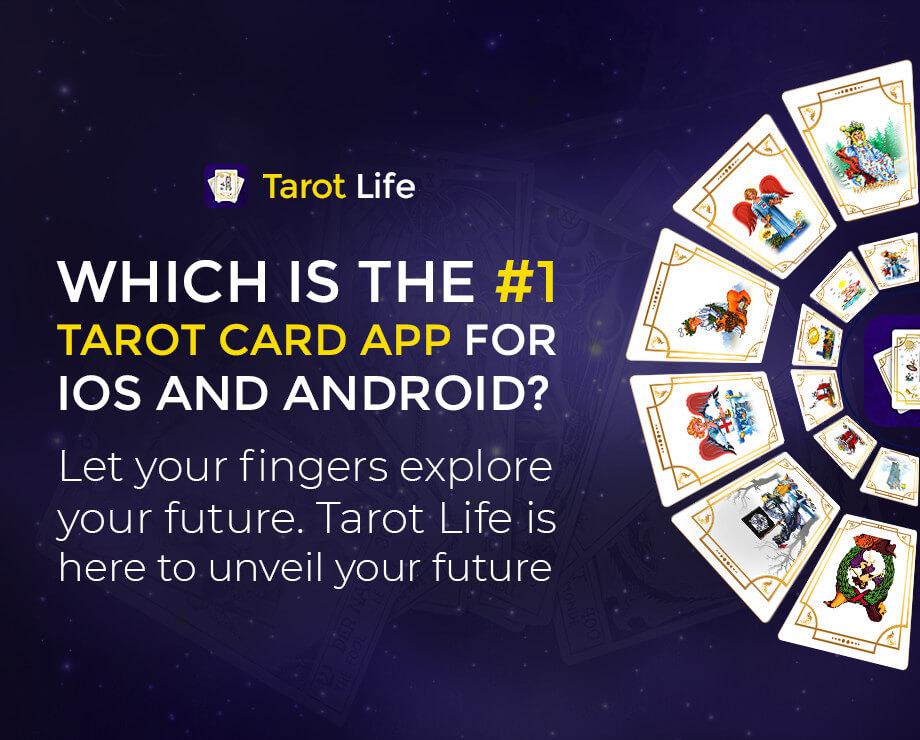 After going through a considerable number of filters, the app that has survived very well for future foretelling is Tarot Life.
The app has a very interactive interface that lets all of its users access the app in an easy way.
This app is a perfect fit if you are seeking a guide that is accessible to you almost all the time. You will be amazed to know how this tarot card app for iOS and Android know this much about you. It has been tailored specifically for users with the help of renowned psychic experts.
Every possible issue that is related to your life whether in the long term or in the near future, the app works very well to resolve it all. May it be your love life, your career, your financial queries, or other things, Tarot Life covers all of the components that exist on the horizon of your life.
This app basically is intended to predict your future and other things on your personality with the help of Tarot Cards and Numerology. Detailed meanings of all 22 Major Arcana Tarot Cards are very well explained in Tarot Life App.
The app also focuses on providing the best advice by analyzing your situation. There are a number of expert psychic readers associated with this app, who on contemplating your situation will revert to you in detail.
For this though, there is a nominal amount of fees you should pay. Also, there is no risk of leakage of your privacy. They make sure, your identity is anonymous. The readers are non-judgemental.
One of the most interesting features of this app is Yes or No Tarot which is a PRO when you need a bit of quick fix advice. There are ample of other features like a live chat, Card of the Day, Daily Tarot, etc.
Just download this amazing tarot card reading app from the Google Play Store, App Store and uncover all of the unanswered riddles of your life.