""Home is where the heart is""-indeed expressed rightly by someone!
Our home reflects our taste, preferences, and personality. It is a mirror of who we are. When it comes to creating our own space, it is all about making it more comfortable, decorative, and full of life. Because, after a long day at work, we need to come back to something warm, welcoming and peaceful.
Our home is not just a physical entity providing us safe and cosy life, but it is an emotional haven where we create our memories with friends and family. The emotional attachment to the house makes it 'home'.
This is why, we leave no stone unturned in creating a home that personifies us. And what better way to do it than as per our Zodiac sign. There are a lot of other things that determine the kind of person we are, but Zodiac holds the top spot in it. Our sign gives an accurate idea of our personality, likes, dislikes, traits, fashion choices and what not. It is perhaps the best way to determine the look and feel of a home.
So, if you are planning to buy a new home or redecorating the existing one, then this list is for you. Check out your lucky color as per your Zodiac sign and make your personal space all about you!
Lucky Color For Your Home As Per Your Zodiac Sign
Aries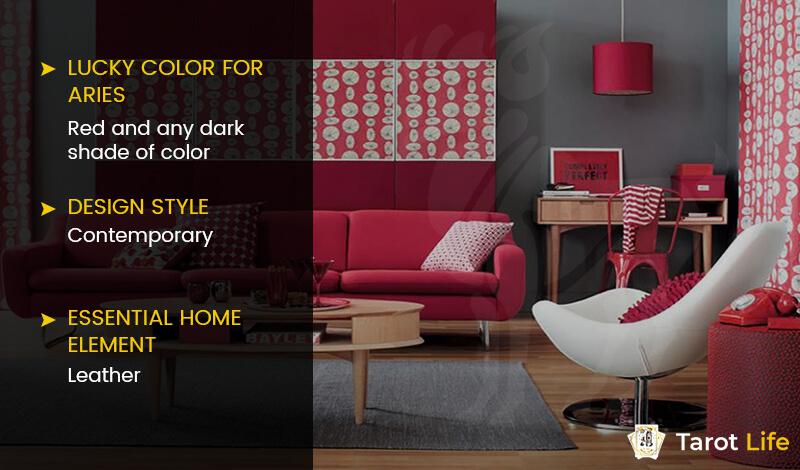 Design style: Contemporary
Essential home element: Leather
Aries, you are outgoing and passionate. Being a powerhouse of energy, people are drawn to you. Moreover, you have an amazing sense of humor along with a warm heart. You are clear about your needs and wants. Unnecessary clutter turns you off.
That is why you are minimalist when it comes to home decor. You do not compromise on the necessities, but are not willing to invest in luxury just for the sake of giving it a style.
Anything in leather attracts you. Red is Aries color in particular! You can play with red and fiery color tones to give your house a contemporary yet bold look. It represents your passion and hunger of life.
Taurus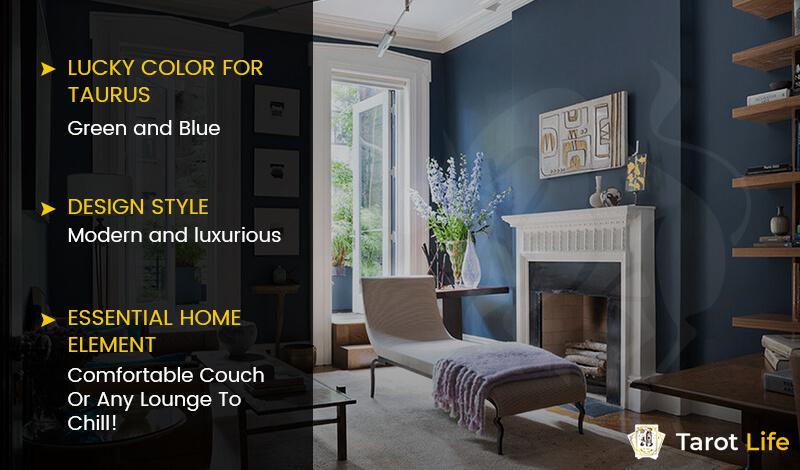 Design style: Modern and luxurious
Essential home element: Comfortable Couch Or Any Lounge To Chill!
Venus rules this zodiac sign. Hence, you are in love with beauty and art, Taurus. And, your house also reflects the same. You have a vast collection of decorative items in your home and your abode bespeaks luxury in every sense.
Taurus, you want a combination of comfort and style in your personal space. Moreover, you have a special love for couches and lounge chairs where you can relax after a long day at work!
Gemini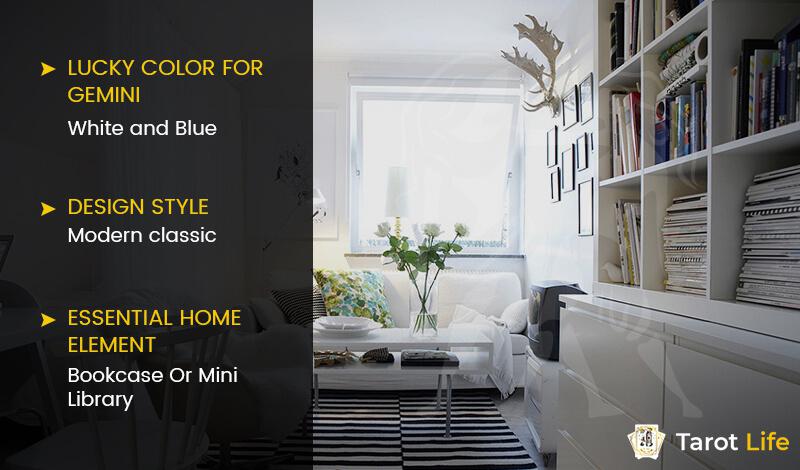 Design style: Modern classic
Essential home element: Bookcase Or Mini Library
Energetic and easy-breezy Gemini are efficient and hardworking. You can go the extra mile to build a perfect home that completely resonates with your persona.
Pure white is the perfect color for your home according to your zodiac sign. It reflects your sincere desire to know the ultimate truth about life. Moreover, you are inquisitive and intellectual with a desire to gain knowledge about everything, so a bookcase or a mini-library is a must for you to create a home of your choice.
Cancer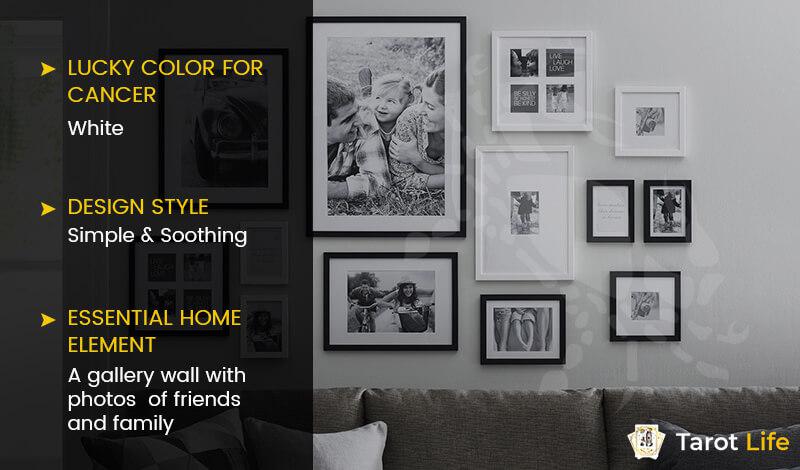 Design style: Simple & Soothing
Essential home element: A gallery wall with photos of friends and family
Cancer, you are a nostalgic, and sensitive soul. Home is your essential life treasure, thus, it becomes important for you to have it as per your taste. You prefer staying at home over dance parties. That is why you need your home to be comfortable and traditional.
Perfect color for your home according to your zodiac sign is white. Play with light or dark shades of white and dive deep in soothing memories. Also, your prized possession is your family and friends. This is why a dedicated corner of your memories with them is what you surely need in your home.
Leo
Design style: Luxury, maximalist
Essential home element: An eye-catchy interior
You are a born star, Leo! Being aggressive, loyal, and ambitious, you want everything in your life to be grand.
You need your home to be extravagant and aesthetically epic. Golden and yellow colors resonate with your shiny and bold personality. Moreover, you want your interiors to stand out from the rest and that's why you pay attention to every detail when you create your own space.
Virgo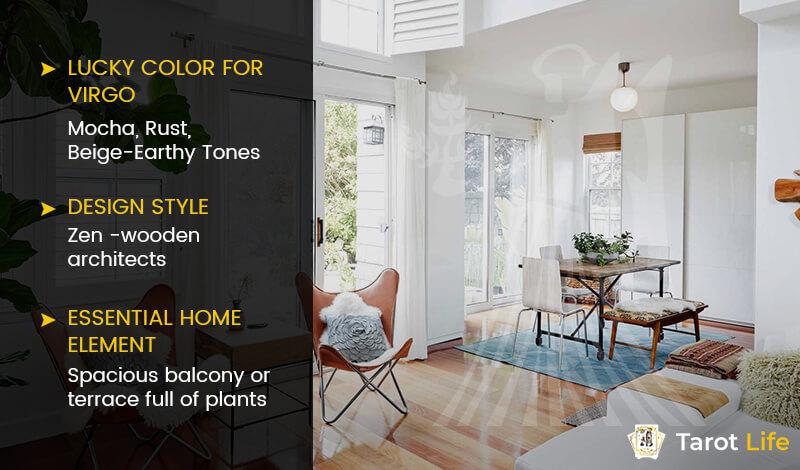 Design style: Zen -wooden architects
Essential home element: Spacious balcony or terrace full of plants
Virgo is an Earth sign, and this is why you prefer everything in tune with it. Natural and zen is your decor mantra! A minimal, organized and clean home is what you need
You manifest your life through natural, earthy colors. Mocha is your lucky color for Virgo. You love to be amidst nature, where there is a sense of peace and calm. So, a balcony and a lot of plants is your definition of a comfortable home.
Libra
Design style: Modern
Essential home element: Grand dining table, or lavish kitchen
Natural stylist and balanced, you are in love with the idea of home and all related domestic activities, Libra. In the quest of achieving everything in life, sometimes you become messy. And your house reflects this mess too!
You love to have family and friends come over and often invite them for dinners and get-togethers. This is why you want your kitchen and dining space to be perfect. Blue resonates your soothing side of personality.
Scorpio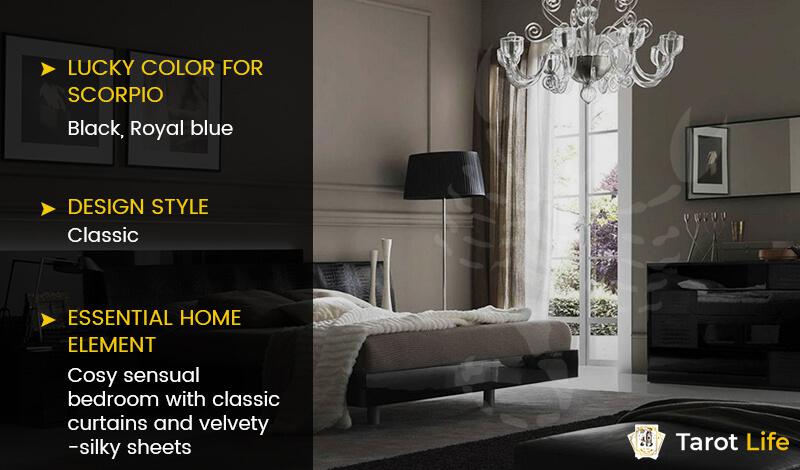 Design style: Classic
Essential home element: Cosy sensual bedroom with classic curtains and velvety -silky sheets.
Scorpio are secretive and stubborn. You are loyal, kind-hearted, and dominating sometimes. "My way or Highway" reflects your true personality. And, your home unfolds these traits too!
You need a hiding cave for their frequent introspection. And, that place is your bedroom which you want to be absolutely according to your preferences.
Sagittarius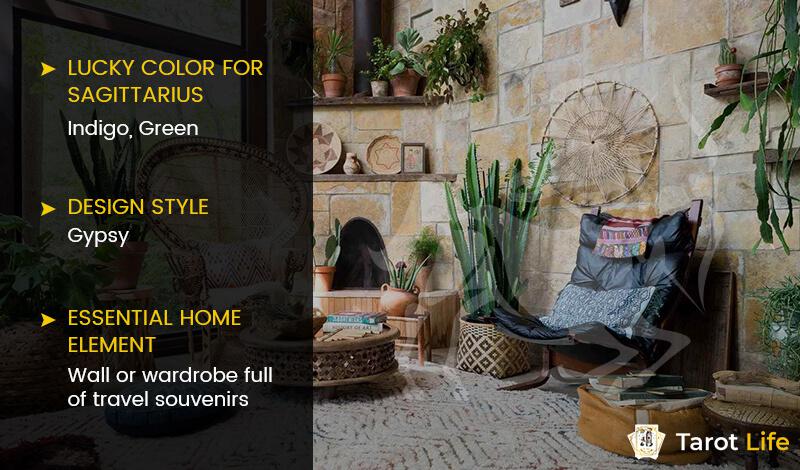 Design style: Gypsy
Essential home element: Wall or wardrobe full of travel souvenirs
Sagittarius, you are funny, full of life and outgoing. Traveling and exploring new places will always be your passion.
And just like your unique personality, you want your home to look unique too. Different colors like Indigo or different combinations of green and Indigo completely goes with your optimistic outlook in life.
Capricorn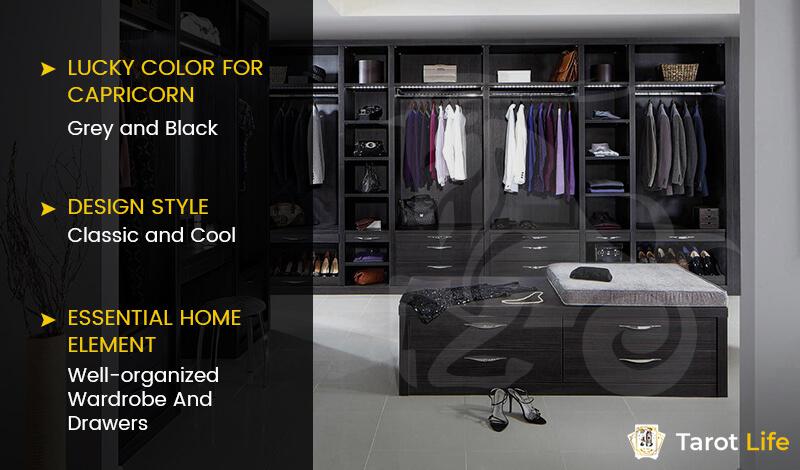 Design style: Classic and Cool
essential home element: Well-organized Wardrobe And Drawers
Traditional and classy Capricorns want everything in their life to be in order. Being easy-going and witty, you want your home to be beautiful and well-organized, as well.
You love to collect and preserve good things. A carefully organized closet is Capricorn's signature style mark. Grey color helps you to achieve harmony and balance.
Aquarius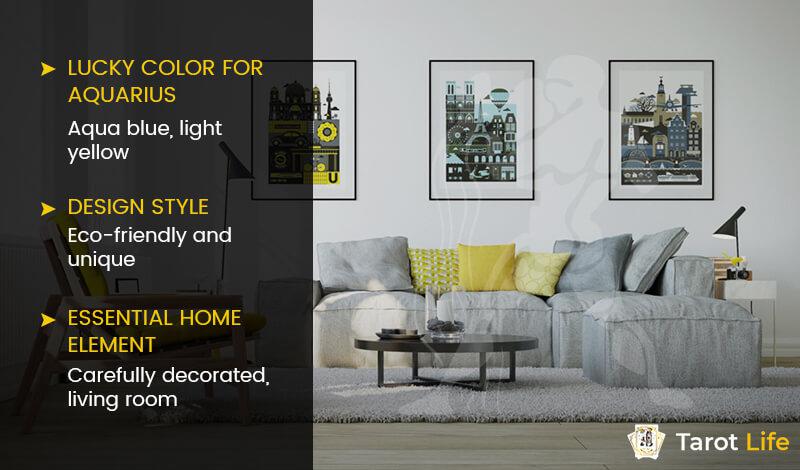 Design style: Eco-friendly and unique
Essential home element: Carefully decorated, living room
You are a rebel and need to express all your opinions. Your house also collects this energy, and it reflects different unique decoration and colors.
Use Aqua blue and its shades to gain balance and peace in your life. Blue is the perfect color for your home according to your zodiac sign.
Pisces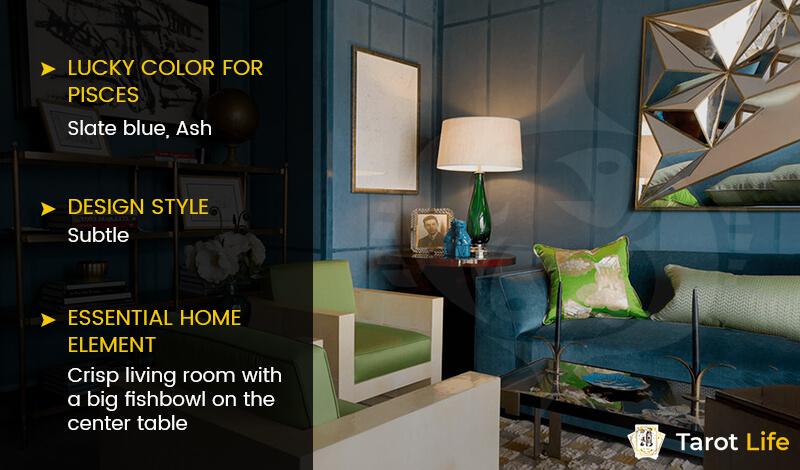 Design style: Subtle
Essential home element: Crisp living room with a big fishbowl on the center table
You are communicative and very imaginative. The water element rules Pisces.
When you use Ash or Blue in home decor, you help channelize your energies. This color resonates with your traits, as well. Being a sensitive person yourself, you want everything in your life to be subtle, as well.
So that was all about zodiac signs and their lucky colors. What is your sign, and which is your lucky color? Comment down below!